"Manufacturing Waste Heat Transfer Products to Save Energy"
Waste Heat Recovery Systems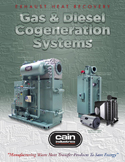 Gas & Diesel Cogeneration Systems
For gas and diesel engines, gas turbines, and micro turbine generator retrofit applications, we offer over 500 standard products to choose from.
We will provide a comprehensive analysis and quotation to fit your exact needs, typically within 24 hours. Our equipment can be adapted and assembled to fit any application or complete installation.
Product Application
Combustion Sources: Gas engines (reciprocating, turbo charged, naturally aspirated and rotary), diesel engines, gas turbine engines
Cogen Applications
Hospitals
Manufacturing Plants
Schools
Office Buildings
Shopping Malls
Drilling Platforms
Oil & Gas Plants
Marine
Equipment Variety
Exhaust steam generators
Large exhaust recovery silencers
Smaller specialized exhaust recovery silencers
Special heat transfer configurations
Recirculating engine jacket water boilers
Particular pinch point requirements
Exhaust or liquid control
Special heat sink requirements
Special heat transfer metallurgy requirements
Specific maintenance concerns
Optional equipment requirements
Installation space and weight concerns
Package system requirements
Anticipated Results
Tremendous fuel savings typically pay for equipment and installation within 1 to 3 years of average use.
Pollution reduction due to lowered annual fuel usage.
Lower exhaust temperatures and significantly reduced sound output levels (final sound attenuation is typically 15 - 25 dBA).
Series
Exhaust Steam Generator (ESG1)
Capacity: (400kW - 7MW)
Entering Gas Temps.: 600 - 1,600°F
Heat Sink Types: Supplemental steam demand and/or primary steam source for steam heating or process steam
ESG1 (download PDF - 500kb)
Heat Recovery Silencer - Radial (HRSR)
Capacity: (200kW - 6MW)
Entering Gas Temps.: 450 - 1,250°F
Heat Sink Types: Engine jacket water, process water, ethylene glycol
HRSR (download PDF - 655kb)
Heat Recovery Silencer - Axial (HRSA)
Capacity: 5 -150kW
Entering Gas Temps.: 450 - 1,250°F
Heat Sink Types.: Engine jacket water, process water, boiler water, ethylene glycol
HRSA (download PDF - 440kb)
U-Tube Recovery System (UTR)
Capacity: 15 - 300kW
Entering Gas Temps.: 450 - 1,600°F
Heat Sink Types: Engine jacket water, process water, boiler water, ethylene glycol, thermal transfer fluids
UTR (download PDF - 370kb)
U-Tube Recovery Unit 1 (UTR1)
Capacity: (200kW - 10MW)
Entering Gas Temps.: 450 - 1,600°F
Heat Sink Types: Process water, boiler feedwater, ethylene glycol, thermal transfer fluids
UTR1 (download PDF - 1.4mb)
Accessories
Cain offers several system-compatible accessories including ebullient steam generators, boiler feedwater systems, and unique bypass valves. In addition Cain offers a line of exclusive time automatic sootblowers which provide unmatched industry performance.
Accessories: (download PDF - 88kb)
Cain Industries is ASME and National Board Certified